ADAM MEYER
AIA, LEED AP & PRINCIPAL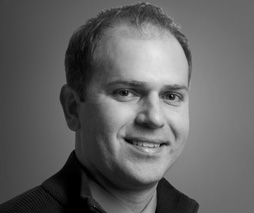 Adam is a licensed architect in over thirty states, a member of AIA, and is recognized by the United States Green Building Council as a LEED Accredited Professional. He received both Bachelor and Master Degrees in Architecture from the University of New Mexico. Over the years Adam has accumulated extensive experience as a designer and lead architect in residential, commercial, and hospitality design throughout the country.
Adam started Studio M in 2010 when he was thirty-three years old. Studio M is an architecture firm based in the North Loop of Minneapolis, MN. Our vision is to create unique and functional spaces representative of the people who utilize them and the environment they inhabit. Adam currently has six employees- licensed architects, drafters, and interior designers, each working on projects locally and throughout the country.
Adam is proud of Studio M's portfolio of projects. Rollouts include: 114 stores for The Tile Shop, 30 Best Buy locations, 11 Uberrito eateries, eight Cowboy Jacks, four Freeziac shops, eight MY Burgers, and four Dunn Brothers Coffee locations. Recent original projects include The Herbivorous Butcher, Peace Coffee- Capella Tower, Red Cow- North Loop and Red Rabbit, Wise Acre Eatery, The Buttered Tin, Keg and Case Market Historic Renovation, MN Horse and Hunt Clubhouse, Firsttech Computers-Rochester, Williston Brewing Co- TX, MRI Corporate Headquarters- Houston, and The Cluster student housing for the University of MN.
In addition to owning his own business, Adam feels passionate about teaching and supporting his community. From 2005-2008, Adam taught an innovative design studio at the Art Institute International in downtown Minneapolis. In relation to the community, he is a member of the 1% Club, a group of professionals dedicated to providing Pro Bono professional services. His local community pro bono work includes: Architect of Record for The Soap Factory since 2011, member of The Soap Factory Task Force for building redevelopment, Mentor for NCARB apprenticeship with four candidates to date, designer for The Nimbus Theater, golf hole sponsor for Skyway Open Mini Golf Tournament benefitting the Boys and Girls Club-Minneapolis, and finally, as a sponsor of the Braemar Men's Club Memorial Fund.